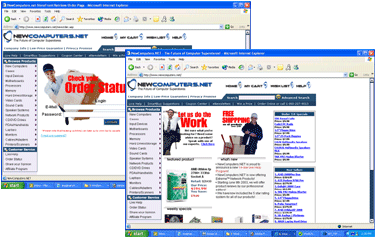 Client: NewComputers.NET
URL:NewComputers.net is now For Sale!
Category: Advanced Package
Description:
As its name implies; NewComputers.NET is an online e-Super Store, providing new computers, accessories and services to the entire technology world, both large and small. Thousands of quality products and services at a fraction the cost of the competition, while remaining on the cutting edge of technology and never forgetting that the customer is always number one.
Site Features:
Award winning appearance, next generation product control, easy-product-search and swift customer checkout, product tracking and delivery. Site contains HTML, JavaScript, ASP and more...